Europe
The NETHERLANDS (2006)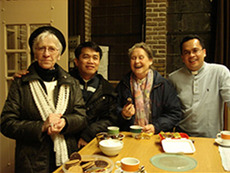 The first two MSP missionaries in Europe were Fr Cesar Tablon and Fr Jonathan Germinanda. The MSP responded to the invitation of Bp Frans Wiertz to work in the Diocese of Roermond. The two MSP priests arrived in the Netherlands on December 8, 2006.
In the first ten months, both missionaries stayed at the Major Seminary in Rolduc while having intensive Netherlands language studies.
In October 2007, both received their parish assignments and were sent to the Deanery of Venlo-Tegelen. These two cities are located along the border of Germany. The deanery has a cluster of parishes wherein Frs Tablon and Germinanda were given at least three parishes each to take care. Fr Tablon ministers in Venlo while Fr Germinanda in Tegelen area.