Europe
The NETHERLANDS (2006)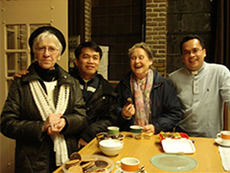 The first two MSP missionaries in Europe were Fr Cesar Tablon and Fr Jonathan Germinanda. The MSP responded to the invitation of Bp Frans Wiertz to work in the Diocese of Roermond. The two MSP priests arrived in the Netherlands on December 8, 2006.
In the first ten months, both missionaries stayed at the Major Seminary in Rolduc while having intensive Netherlands language studies.
In October 2007, both received their parish assignments and were sent to the Deanery of Venlo-Tegelen. These two cities are located along the border of Germany. The deanery has a cluster of parishes wherein Frs Tablon and Germinanda were given at least three parishes each to take care. Both Fr Tablon and Fr. Germinanda ministered in Venlo City areas.
In 2012 Fr. Germinanda was sent to Rome for further studies. Fr. Marc Calo arrived in the Netherlands to take his place in the Parishes of Venlo City. In 2015 Fr. Patrick Casino came to strengthen the MSP's presence in the diocese of Roermond. Fr. Calo worked as assistant Parish Priest and as secretary for Mission in the said diocese. Fr. Casino works as assistant Parish Priest in Venlo and at the same time, he teaches dogmatic Theology in the Major Seminary Rolduc, the diocesan seminary.
In January of 2016 Fr. Tablon was transferred to the parishes of Reuver, Beesel, and Offenbeek as Parish Priest. And in November of the same year Fr. Calo also transferred as Parish Priest to the parishes of Tegelen, Belfeld, and Steyl. Steyl is the home of the Arnoldus Family, the Society of the Divine Word (SVD), the Sisters-Servants of the Holy Spirit of Perpetual Adoration (SSpSAP, Pink Sisters), Missionary Sisters, Servants of the Holy Spirit (SSpS, Blue Sisters). In the St. Michael Mission House the sarcophagus of the founder Saint Arnold Janssen is to be found, and also in Steyl are the burial places of the co-foundresses of the SSpS, Blessed Maria Helena Stollenwerk, Blessed Josefa, Hendrina Stenmans, and that of Mother Mary Michael, co-foundress of the SSpSAP.
In January of 2019 Fr. Calo was elected as part of the General Council, he is recalled back to the Philippines to work in the administration of the Society.