Oceania
AUSTRALIA (2005)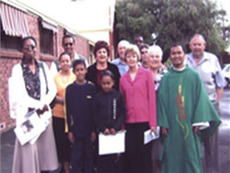 In late 2004, Bp Gerard Holohan DD of Bunbury had invited the MSP Fathers to work in his diocese. The Bunbury diocese, which used to be part of the Archdiocese of Perth, was erected in 12 November 1954. In October 2004, Frs Socrates Mesiona MSP and Patricio Casino MSP visited the place and finalized the agreement with the diocese.
On May 6, 2005, Msgr Tomas Gonzalez, an MSP Associate Member from the Archdiocese of Manila, went there as the first MSP missionary in the Australian soil. Ten days later a powerful tornado hit Western Australia. It was so powerful that the St Patrick's Cathedral leaned to the right by few inches. The parish house was also severely damaged. The cathedral, like other houses in the vicinity, was then demolished.
Msgr Gonzalez received his assignment as pastor of the St Brigid's Parish, which was established in 1899, in Collie, WA. A year later (2006), Msgr Gonzalez was joined by Fr Adolfo Bonghanoy Jr MSP who was assigned as an Assistant Pastor at the central parish in Bunbury.
At present (2010), there are four MSP priests serving in the diocese: Fr Adolfo Bonghanoy Jr, Msgr Tomas Gonzalez, Fr Marcelo Rosales, and Fr Federico Dizon.